Major Projects info table

| | |
| --- | --- |
| Project name | Umm Wu'al Phosphoric Acid Plant (PAP) |
| Location | Turaif, Saudi Arabia |
| Construction period | 2013.12 - 2018.03 |
| Scale | Produce 1,500,000 tons Phosphoric Acid per year |
The world's largest phosphoric
acid production facility
The Saudi Umm Wu'al Phosphate Project is the world's largest phosphate production facility, and is found at the northern border near Jordan. It produces 1.5 million tons of phosphate annually and can mine, process, and produce phosphoric acid and sulfuric acid. The project was initiated by Saudi Arabia as part of its effort to achieve a more balanced economic development. At a cost of 7 billion USD, this next-generation construction project included an end-product producing phosphoric acid plant that was built by Hanwha Corporation/E&C. Hanwha Corporation/E&C received 0.94 billion USD for the plant when it was completed in 2018 using the Engineering, Procurement, and Construction (EPC) method.
The Wu'al Phosphate Project was a joint project between Saudi's public corporation, Ma'aden, the state-run petrochemical company, Sabic, and the USA's Mosaic, the world's largest phosphate acid fertilizer producer and seller. The project was managed by the US's Fluor while for construction, Korea's Daerim, America's Jacobs, Spain's Intecsa, Canada's SNC Lavalin, and with other leading construction companies around the world. Hanwha Corporation/E&C was the first among the contractors who operated in the northern region to complete the project successfully, demonstrating its ability to exceed expectations.
Amount of production

1,500,000
tons

The world's largest production
of Phosphoric Acid totaling
1.5 million tons annually

Amount of production

1,500,000
tons

Contract method

EPC
project

Hanwha Corporation/E&C coordinated
all design, procurement and
construction work and completed
the project on time

Contract method

EPC
project

Order amount

940
million USD

Order amount: 940 million USD
Pressure equipment: 78 units,
a total of 5,800 tons
Pipe construction: 680,000 dia-inch

Order amount

940
million USD

Zero accident

21.5
million work hours

A total of 6 awards for
construction safety.
Achieved Zero LTI
(Loss of Time due to Injury)
during the entire construction period

Zero accident

21.5
million work hours
CONSTRUCTION PROJECT SCALE
A gigantic construction project
Built 78 pressure vessels totaling 5,800 tons
Built 450 pump facilities
Construction of metal and non-metal pipes with 680,000 dia-inch
Employed 11,400 tons of steel and 89,000 m3 of concrete
Installed a total of 1,200 km of power cables above and below ground
3D modeling DESIGN
3D modeling design
Employed Microstation 3D modelling to minimize design errors and interference between equipment
Maximized construction efficiency by conducting preliminary reviews of constructability and maintainability
Automated the production and replaced 2D drawings with 3D modeling
Efficiently automated supply management using 3D technology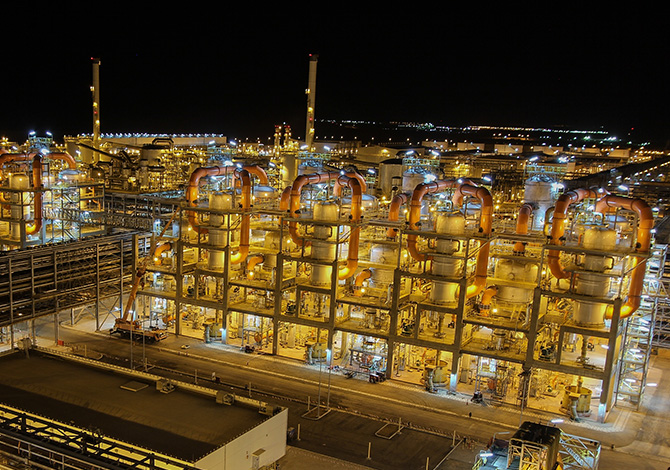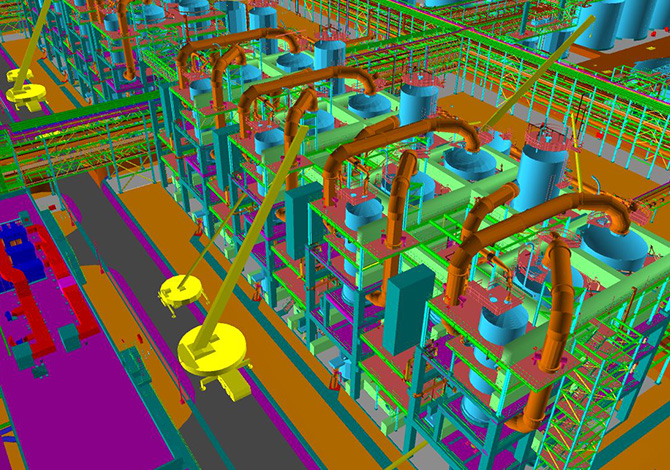 Supply management of over 1,200 km
Conducted site analysis of the construction site (located 1,200 km from the Dammam Port of Saudi Arabia)
Implemented supply chain management for approval, design, communications, procurement, and every stage of the construction process to control costs, improve profitability, manage delivery times, ensure client communications, coordinate and plan long-term project.
Numerous safety measures taken by closely cooperating with local government and traffic control to prevent accidents and construction delays.
Established new routes and employed safety & logistics experts to mitigate risks and safely transport large industrial equipment and hundreds of tons of materials across 1,200 km.
ACHIEVEMENT OF UNINJURY RECORD
Achieved 21.5 million safety field work hours
Achieved 21.5 million safety field work hours without a lost time incident
Recognized with 6 awards as HSE Contractor of the Month by Saudi Ma'aden
Managed an Engineering Home Office to strengthen and systemize communication between different parties (A total of 90 engineers from Hanwha Corporation/E&C, 20 employees from partner companies, and various process consultants were always on-site)