Major Projects info table

| | |
| --- | --- |
| Project name | The New Bismayah City project |
| Location | Bismayah, Southeast of Baghdad, Iraq |
| Construction period | 2012.5 - 2027.12 |
| Scale | Site area 18,300,000m2, Total 100,080 residential units and social infra structure |
The hope of Iraq, the symbol of reconstruction
Hanwha Corporation/E&C's New Bismayah City project is the unprecedented effort to build an entire city covering 59 city blocks including 8 towns, community facilities, and over 834 apartment complexes totaling 100,080 units, enough to house more than 600,000 people.
New Bismayah is being built 10km southeast from the capital, Baghdad and is expected to become the hope of the war-torn Iraq and the symbol of its reconstruction. It is also the first and the largest city development project in Iraq's history while also being the biggest international project ever undertaken by any construction company in Korea.
The project is set to cost 10.1 billion USD (12 trillion KRW) with savings realized by employing the Design-Build Method where Hanwha Corporation/E&C is exclusively and comprehensively in charge of every aspect of the project including the design, supplies, and construction.
Total houses

100,080
units

Capacity : 600,000 people
Site area : 18,300,000m2
Nine times bigger than Monaco

Total Houses

100,080
units

Construction amount

10.1
billion USD

The first and the largest city
development project in
Iraq's history

Construction amount

10.1
billion USD

Project delivery system

Design- Build

Exclusively contracted and
executed by Hanwha Corporation/E&C,
from design to procurement
and construction

Project delivery system

Design- Build

PC Plant

World's Biggest

A total of 18 manufacturing
plants are employed to produce
building materials, including
the world's biggest Precast
Concrete (PC) plant
Planned city with a strategic design
After scientifically studying the population, city structure, Iraqi culture, and city flow, a strategic design for housing, commercial areas, green space, and public areas was drafted.
The new city was designed to provide the most advanced public services with infrastructure for health, welfare, recreational, education, schools, law enforcement, community and even entertainment. Large-scale infrastructures including high-tech water treatment plants, sewage treatment plants, a modern road network, sewer lines, power and energy are also being built.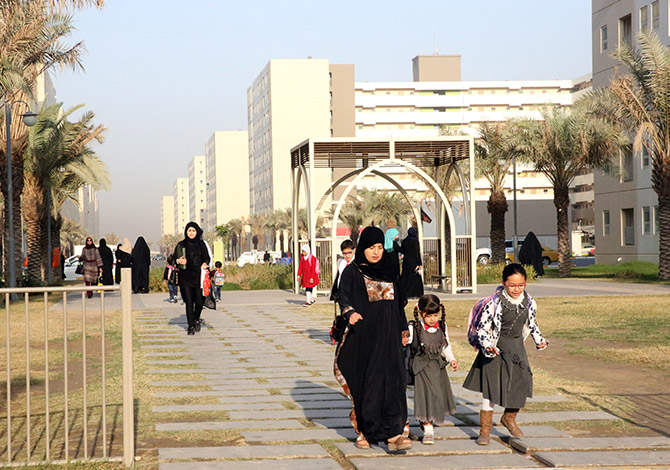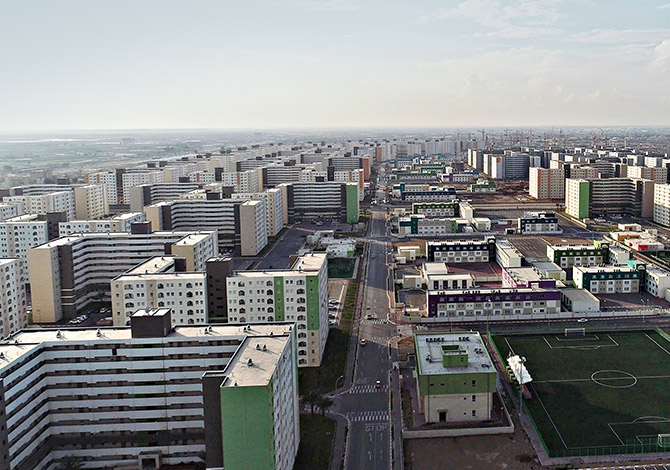 Precast Concrete (PC) method
The PC construction method applied in this project uses pre-assembled factory-transported subsidiary materials such as pillars, beams, slabs, and walls for installation.
By expertly applying the PC construction method for mass production and systemization, Hanwha Corporation/E&C is able to achieve optimal quality control and reduce significant construction time.
Building Information Modeling (BIM) design
To increase the efficiency of design, construction, and maintenance, the BIM design method was used to convert 2D designs into 3D designs for modelling. The BIM design method extensively utilizes various data of the building's structure, characteristics, and construction variables.
This allows everyone involved, including the residents, engineers, constructors, and architects, to better understand the building to minimize errors while maximizing efficiency.
Concrete gallery network (Utility tunnel)
New Bismayah city has an underground tunnel that surrounds the 20km circumference of the city and its 6-8 lane surface roads. Enclosed within the underground tunnel is the communication network and electrical network.
They are designed to safely protect the urban infrastructure while supporting maintenance work such as repairs and network extensions. Having all the telephones and electrical wires underground provide an unimpeded view from inside and outside of the city, thereby improving the city's aesthetics.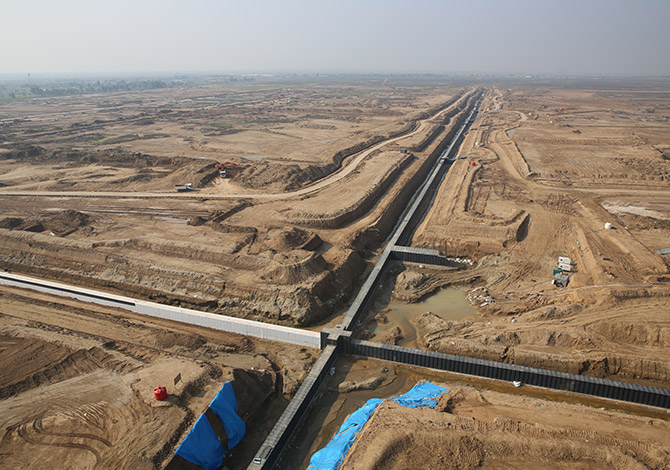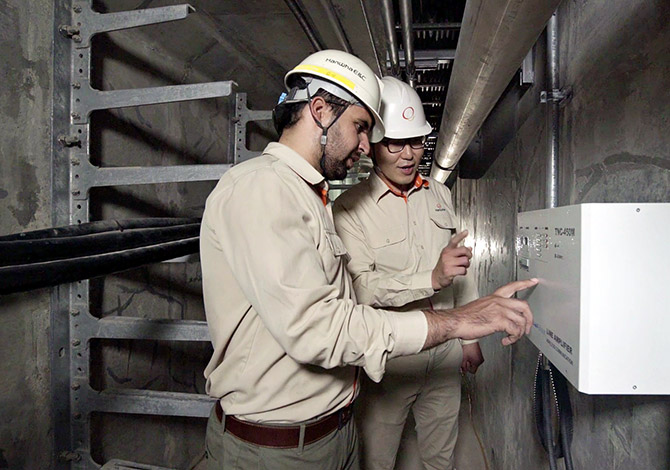 Self-production system for building materials
Hanwha Corporation/E&C has established 18 building material factories, including the world's largest PC (Precast Concrete) plant, to produce and supply the key materials for construction.
It can stably produce and supply materials such as PC walls, high-strength PHC piles, lightweight ALC blocks, PVC windows and pipes, pedestrian road tiles, asphalt, and ready-mix concrete, to construct the second and third new cities in Iraq.