"Quality is our promise to
our customers."
Hanwha Corporation/E&C never stops to work on quality innovation so that all our sites can secure the highest and consistent level of quality and also provide the best service.
Quality Guidelines
With the Hanwha Group's management values of customer satisfaction in mind, all employees at Hanwha Corporation/E&C set up and follow the Quality Guidelines.
We, employees of Hanwha Corporation/E&C, strive to achieve Customer Satisfaction Management, providing the best quality to our clients.
We at Hanwha Corporation/E&C create new technologies and cultures for the 21st century with a pioneering and challenging spirit.
In order to achieve the goal set by the Quality Guidelines, a quantifiable quality target shall be set at each unit organization, headquarter and overall company level. All employees will abide by the operational standards accordingly to achieve the set target. The Quality Management System will be continuously improved to enhance the efficiency of the system.
All employees, including the top management, at Hanwha Corporation/E&C will learn the Quality Management Manual by heart and apply it in performing all quality-related activities, while also making sure that the most effective Quality System is maintained at all times.
Quality Management
System Set Up
Hanwha Corporation/E&C has obtained the Global Quality Management System (ISO9001) certificate.
Quality management is applied to all aspects of the business, from design, purchasing, construction to customer service. With the accumulated knowledge and diverse experiences from the different project sites at Korea and abroad, Hanwha Corporation/E&C is able to compile a systematic database to be re-applied in other sites. Hanwha Corporation/E&C will continue quality innovation and communicate with its customers to become a truly trusted global leading E&C company.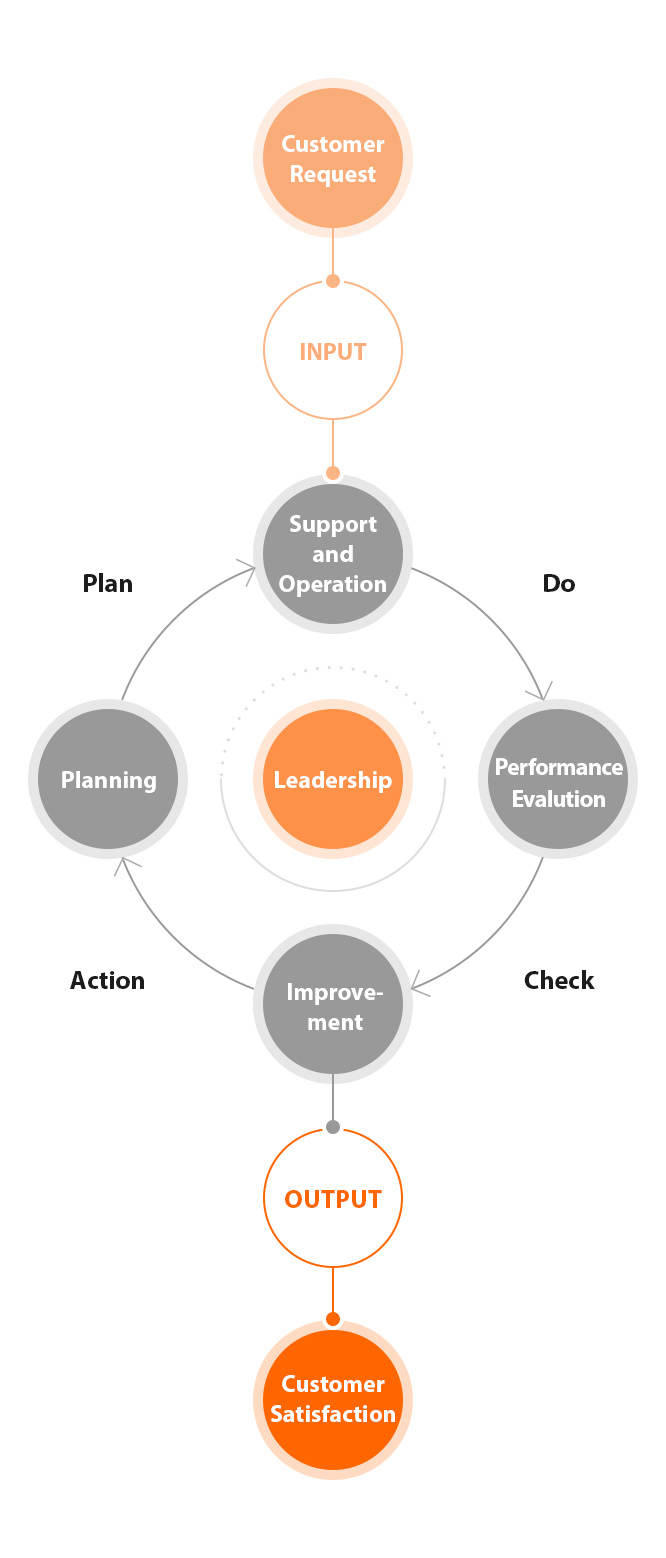 Customer Request
INPUT
Planning
Plan
Support & Operation
Do
Performance Evaluation
Check
Improvement
Action
Leadership
OUTPUT
Customer Satisfaction
Quality Management System Certification (ISO 9001)
ISO 9001 is an international standard on Quality Management System set by the International Organization for Standardization. Hanwha Corporation/E&C first obtained the certificate in 2003 and has maintained it to date.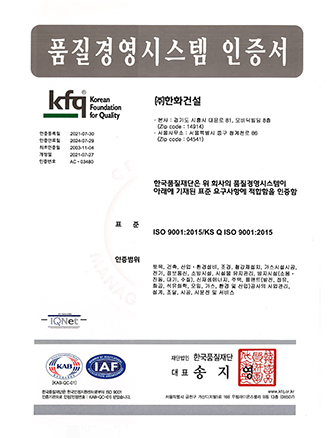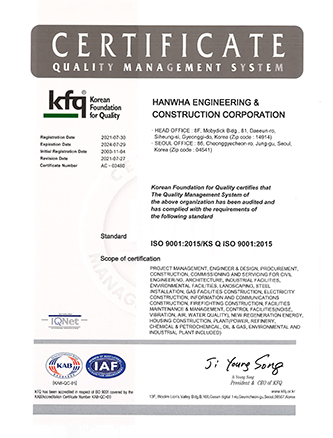 view
Quality Management System Certification
ISO 9001
Customer-focused Quality
Control
Hanwha Corporation/E&C implements various quality improvement measures focusing on the customers. Through data analysis, we are able to conduct a systematic management of any defects and take preventive quality control measures, thus gaining bigger trust from our customers.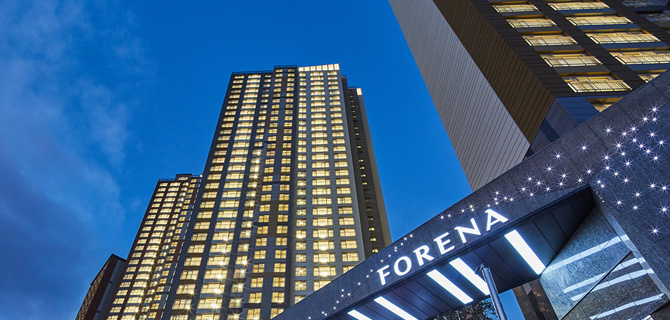 01. Identifying Key Quality Control Items through Data Analysis

Hanwha Corporation/E&C uses the accumulated CS(Customer Service) data to identify, in detail, the types, frequency and cause of any defects found on site. Key defects and related issues are designated as Key Quality Control Items and are shared company-wide. This data-based, systematic and scientific quality control contributes to lowering the defect level at Hanwha Corporation/E&C project sites and to building stronger customer trust.
02. BS Check-Up and Special Housewives' Task Force Check-Up

Hanwha Corporation/E&C checks for any major defects in a completed site at least three months before actual move-in takes place through its BS(Before Service) Inspection program. For apartment complexes, a special task force team comprised of actual housewives checks for any defects as if the new home owners who would be moving in would survey their new homes, so as to maximize customer satisfaction.
03. Just In Time Quality Control

Hanwha Corporation/E&C, has a preventive quality inspection scheme in place. From the very beginning of any construction project, quality review and inspection take place. Controlling quality after the product has been handed over to the customer is not enough. We believe quality control should start at the design stage and be checked all the way through completion of a site. For each and every stage, Hanwha Corporation/E&C, has a system in place to achieve Just In Time Quality Control.

Review of design documents
Review of model house, relevant laws and regulations and any risk of defect
Review of framework and finish settings
nspection of mock-up (sample) units
Quality inspection of construction conditions
BS(Before Service) Inspection
04. Establishment of Quality Standardization

Hanwha Corporation/E&C has built up a quality standardization system by

1) establishing quality improvement measures based on the operation of a Quality Discussion Board on key defect items, and
2) monitoring sites where improvement measures have been applied.

These efforts are followed up with continuous revision and updates on quality standardization measures, to ensure all inefficiencies are removed while quality is assured in the construction procedures including process, cost, safety, and construction methods. This will enable a more sophisticated and advanced technology and quality improvement measures to be applied at the sites.
Creative Technology Training
Hanwha Corporation/E&C provides creative technology training to all employees on a voluntary basis, to enhance their overall quality awareness and to upgrade their capabilities. In addition, the company has set up a Tech-Knowledge Pool, where Hanwha Corporation/E&C's experience and knowhow can be systematically stored and shared.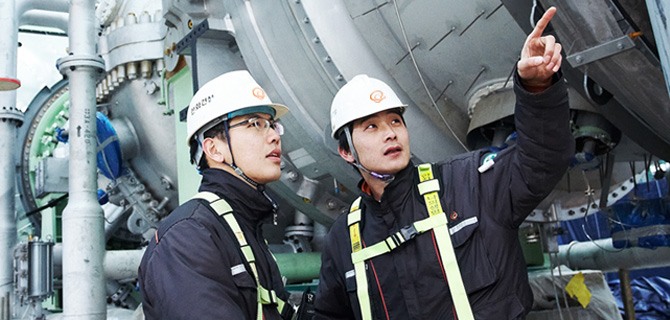 01. Quality Library

Hanwha Corporation/E&C runs a Quality Library, which is an online video technology training program. Hanwha Corporation/E&Cemployees are encouraged to take the voluntary training courses online to enhance their quality awareness. The training videos that are regularly updated provide so much more than simple training content: They embrace all the insider know-how and experiences of senior, more experienced Hanwha Corporation/E&C employees and are shared with any new-comer to a similar project.
02. Quality Outreach Program

When a certain project schedule is too tight or situations in any site make it difficult for the site team to receive the necessary quality training, Hanwha Corporation/E&C provides a Quality Outreach Program that bring the quality training program out to the sites. Rather than just checking the final quality status of a site, the Outreach Program inspects each and every stage of the process leading up to the completion of the site, as well as deliver the necessary training. This contributes to improving the overall mindset and awareness towards quality issues, while upgrading the capabilities of our on-site team of engineers.
03. Tech-Knowledge Pool

Hanwha Corporation/E&C has set up an on-line Tech-Knowledge Pool to compile the following information:

1) Orders and standards prescribed by the head office and the project site office.
2) Quality or defect issues and other complaints raised and received on-site.
3) Technical reviews and all other relevant documents collected on-site.

Employees working on a project can have direct access to the latest expert technology information and documents stored in the Tech-Knowledge Pool at any time, any where. By sharing best practices from other sites via the on-line platform, quality innovation becomes much easier.