Hanwha Corporation/E&C
Green Infra Developer
On a mission to grow greener,
Building value and innovative infrastructure all around the world.
Hanwha Corporation/E&C has quickly become a global player by leveraging its extensive experience in construction projects and by applying its new technologies and subject matter expertise across commercial and residential buildings, infrastructure, chemical and power plant, and more. We are the signature construction company of Hanwha Group, the 7th largest corporation in Korea and a Fortune Global 500 company.
Hanwha Corporation/E&C is recognized for its ability to successfully complete large-scale and complex projects in the global market, such as building an entire city; constructing chemical plants in the Middle East and North Africa; and completing various real estate projects in the Americas. Through its recognized capabilities, Hanwha Corporation/E&C will continue carrying out responsible business practices to contribute to social development in the global construction market.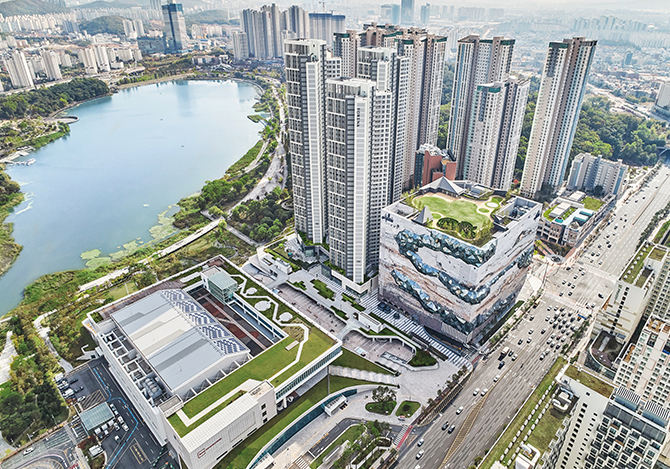 Leader in Complex
Development projects
Hanwha Corporation/E&C creates a space that connects client's needs beyond simple buildings.
It has an outstanding history and knowhow in complex development projects that develop facilities with different purposes such as housing, office, hotel, cultural and leisure facility, shopping center, etc. in conjunction with urban planning.
Suwon convention center MICE complex
Seoul station northern area development
Daejeon station area development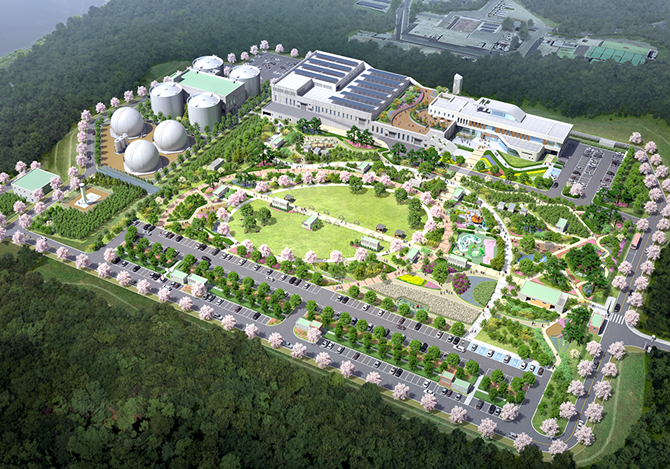 Leading company in Eco-friendly energy business
Hanwha Corporation/E&C is preparing for the coming era of zero carbon by strengthening the competitiveness of eco-friendly business.
The wind power business and hydrogen energy business are the core growth engines for the future. We are laying the groundwork for sustainable development based on various renewable energy projects.
Yeongyang Wind Power Complex
Jeju Sumang Wind Power Complex
Shinan Wui Offshore Wind Power Project
Daesan Hydrogen Fuel Cell Power Plant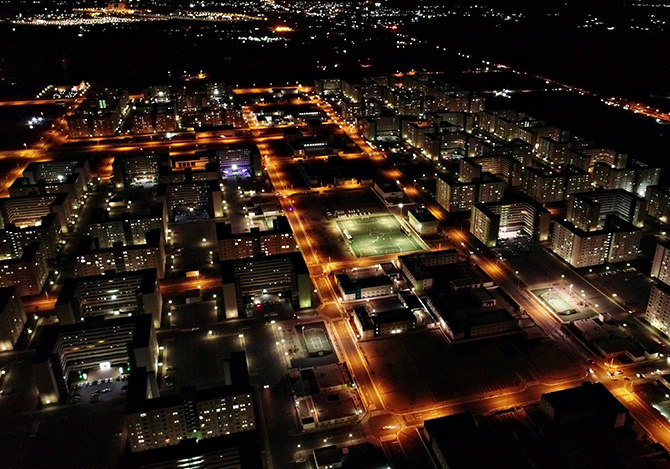 Specialist
in Urban Development
With its experience in huge urban development from 'Incheon Eco Metro' and 'Daeduk Techno Valley' in Korea, Hanwha Corporation/E&C continues to take on new city development in Southeast Asia and the Middle East.
The Bismayah new city development project, which aims to develop 100,000 houses, public facilities, and infrastructures in the city of Iraq, is a large-scale historical event that Hanwha Corporation/E&C has designed and is constructing.
Bismayah new city, Iraq
Incheon EcoMetro new city development
Daeduk Techno Valley(DTV) development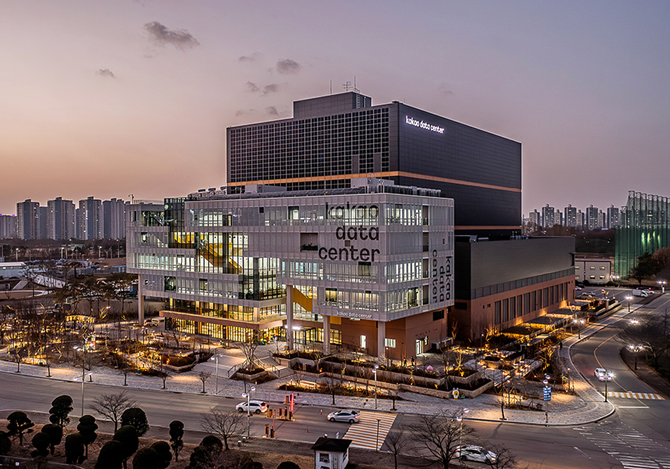 Global Expert in EPC projects
Hanwha Corporation/E&C have successfully completed oil & gas plant, chemical plant, power plant construction projects in North Africa and the Middle East.
Also, we have erected various landmark buildings in the US and Southeast Asia. Hanwha Corporation/E&C is the best global EPC(Engineering, Procurement, Construction) partner known for its reliability, cost-competitiveness, and technology across the global sites.
Saudi Umm Wu'al Phosphoric Acid Plant Project (PAP)
Saudi Yanbu II power and water Project
Algeria Arzew Refinery Project
Hanwha Group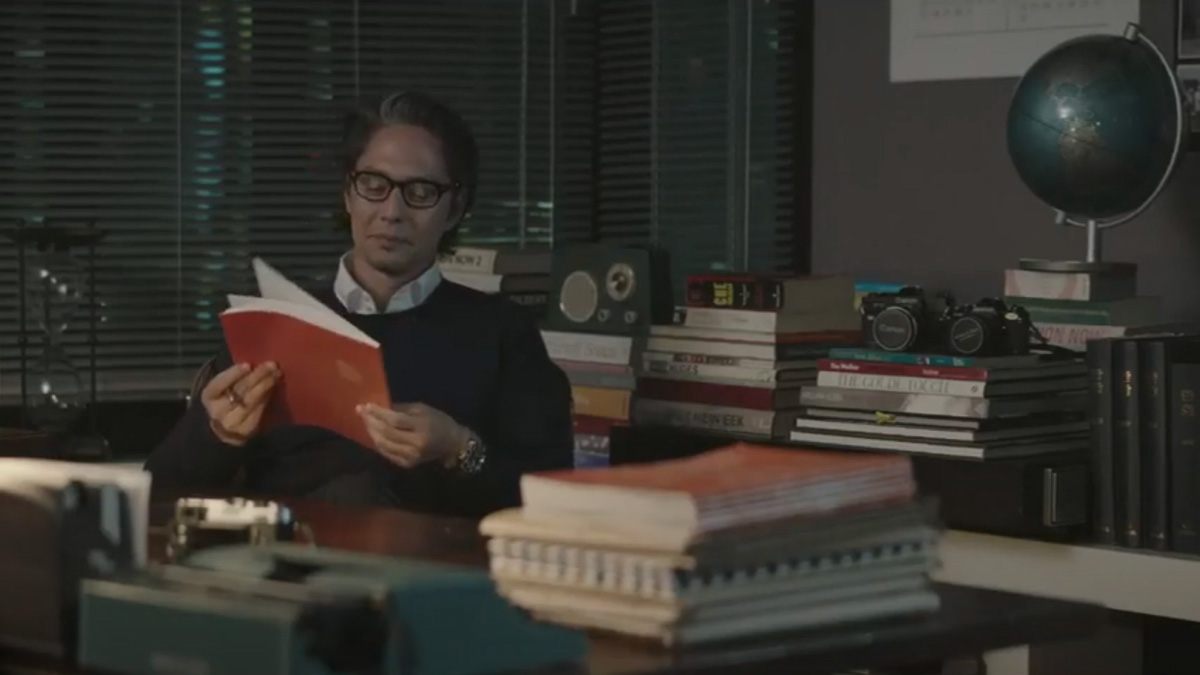 Hanwha Group, founded in 1952, is one of South Korea's top-ten business enterprises and a Fortune Global 500 company.
Hanwha has 91 domestic affiliates and over 710 locations around the world spanning diverse business areas: chemicals & materials, aerospace & mecha tronics, solar energy, finance, leisure & lifestyle, and construction. Hanwha's impressive growth over the past seven decades stems from its ability to anticipate change and embrace new challenges.
In the chemical industry, Hanwha is growing as a world-class leader in oil, chemicals, synthetics, and advanced materials. Hanwha is a global leader in total solar solutions, with sales and R&D presence in more than 40 loca tions around the globe. It captured the largest market share across Germany, Italy, the UK, South Korea, Japan and the US (residential market). In addition, the business is focused on electricity retailing and downstream power generation while developing other forms of eco-friendly energy such as hydrogen fuel.
Hanwha is expanding its presence in the aerospace industry. It is a trusted partner of global aircraft-engine manufacturers such as GE, Pratt & Whitney, and Rolls-Royce and produces vital rocket components for Korea's space launch vehicles. In the field of mechatronics, Hanwha is responsible for a wide array of products, such as precision robotics, deep learning and AI, smart factory, and even imaging systems installed in orbital satellites. With world-class products, Hanwha continues to grow as a leader in the global security industry.
Hanwha is on track to become a top-tier financial service provider in Asia, having presciently entered emerging markets such as Vietnam, China, and Singapore. With the expertise gained from being South Korea's second-larg est non-banking financial operation, Hanwha provides customers with a comprehensive catalog of services including insurance, securities, and asset management. The company is delving into digital finance by fostering the next generation of fintech startups, investing in insuretech, and launching a digital securities firm.
Hanwha's solid reputation in the engineering and construction industry is built on a foundation of industrial site developments located around the world. One of the developments include building Bismayah, a brand-new city in Iraq, established on the outskirts of Baghdad with 100,000 residential units. Hanwha also provides luxury resort and shopping experiences at loca tions in Korea, Japan, and Southeast Asia and is growing as a premium life style services provider across the globe.